WHAT WE DO
Functions of the Commission
The functions of the Commission as spelt out in article 194 of the Constitution and elaborated in section 77 of the Local Governments Act, 1997 are to:
Advise the President on all matters concerning the distribution of revenue between the Government and local governments and the allocation to each local government of money out of the Consolidated Fund.
Consider and recommend, in consultation with the National Planning Authority, to the President the amount to be allocated as equalisation and conditional grants and their allocation to each local government.
Consider and recommend to the President potential sources of revenue for local governments.
Advise the local governments on appropriate tax levels to be levied by local governments.
Deal with disputes between local governments over financial matters and tender advice relating thereto to the parties involved, the Minister and the Minister responsible for Finance as may be necessary.
Monitor local governments' budgets to ensure that they don't significantly detract from priority programme areas; where budgets detract from PPA, the LGFC is to inform the council and the President through the Minister for appropriate action.
Perform such other functions as Parliament may prescribe.
WELCOME
Message from the Chairperson
The Local Government Finance Commission (LGFC) is an autonomous arm of government responsible for advising central and local governments on issues of fiscal decentralisation.
The Commission is established under Article 194 of the 1995 Constitution and has been operational since February 1995 following an official launch by Hon. Bidandi Ssali, the then Minister of Local Government.
The Commission is constituted by seven members appointed by the President; four of which are nominated by the District Councils (3) and Urban Councils (1). The other three are nominated by the Minister responsible for Local Governments in consultation with the Minister responsible for Finance, Planning and Economic Development.
The Commission is serviced by a secretariat organised in two departments, namely central grants and local revenue on the one hand (comprising of economists and statisticians) and administration on the other. There are currently 38 staff members in the secretariat headed by a Commission Secretary.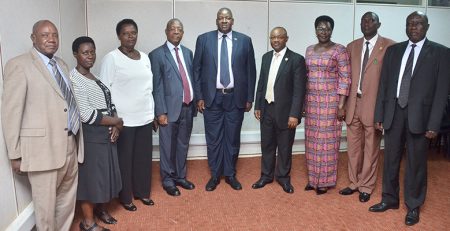 The Local Government Finance Commission (LGFC) is an autonomous arm of government responsible for advising central and local governments... read more